Here's your guide to experiencing the Amalfi Coast. Each town is an entity unto itself, with its own unique way of being and its own ecosystem. Many visitors tend to spend one or two nights in each town along the coast, which can be stressful and make your trip feel fast-paced. I highly recommend you stay in one city instead, for perhaps a week, and travel to other coastal towns during the course of your stay. Read this guide about each town to choose the one best suited to your tastes, and explore nearby cities at your own pace. It is easiest to rent a car, but if you're a patient traveler that doesn't mind long waits and sweaty bus rides, local transit can get you around, too.
AMALFI
If you love the hum of a busy city, then you'll fall quickly for Amalfi. This little seaport town has a charm that attracts many visitors when the sun is high and warming the city in the summertime. Summer is the most popular time to visit, but the city is also beautiful during the off season in late spring or early fall, though a bit cooler. During a summer visit, enjoy the beautiful, intimate beach here that is certainly on the smaller side. Luckily, the small, sandy beach offers more chance for you to experience gorgeous views and clear waters without the hassle of crowds! And when the sun gives way to night, you can enjoy plenty of restaurants and bars that stay open late. The nightlife in Amalfi is a perfect way to end a busy day of exploring the city before going on to the smaller city of Atrani.
ATRANI
Atrani is nearby, walking distance from Amalfi, and is the smallest city on the Amalfi Coast. The small size and local flare explain why the city is comparably less hectic of all the coastal cities. For those looking to experience an Italian slice-of-life from a local's perspective, you'll find exactly that in Atrani. From here, you can easily get to the neighboring city, Ravello. For those that enjoy hiking, you can easily climb a pedestrian road to the top of Ravello from here.
RAVELLO
If you live for the outdoors and coastal views, Ravello may be your favorite city. Come here for one of the best views of the Amalfi Coast, and stay for the long, beautiful strolls you are bound to take along the winding roads. Ravello is calmer in comparison to Amalfi, and is a great place for many picturesque views atop high terrain – the city is essentially on a mountain. While the beach is less accessible here (you'd need to go through Atrani or Amalfi to get there), nature lovers may want to linger to breathe deep while taking in the beauty of the coast.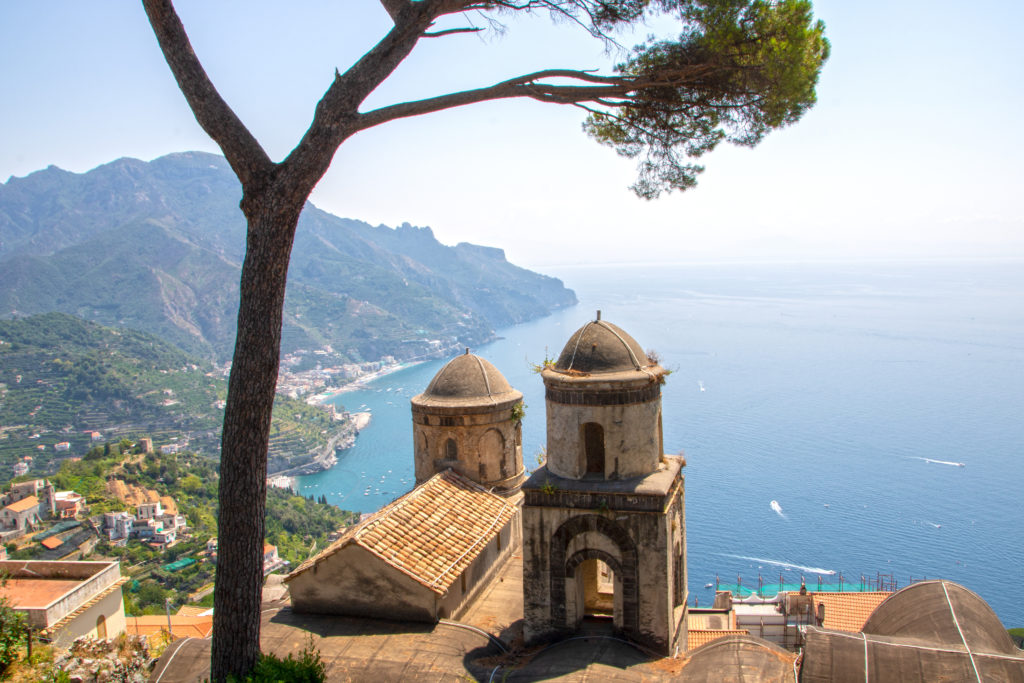 POSITANO
A strong contrast to the intimate charm of Atrani or Amalfi, the city of Positano is posh, chic, and well-known for its fashionable style. Wonderful Italian cuisine, fun bars, and of course the famous Positano style, which has caught the eye of many with handcrafted locally made clothing, make the city the most expensive destination on the Coast. Be prepared to spend more here than anywhere else on the coast, but you won't regret bringing some of Positano back home with you! The city is busy and bustling in the summer when young crowds are drawn in not only by colorful, vibrant fashion but also by the extravagant nightlife.
VIETRI SUL MARE
Geographically, Vietri Sul Mare is the best-connected city on the coast. It is the only one with a train station and is conveniently located right off the highway. Though the city sees many tourists each year, Vietri has a strong local identity and is one of the more affordable cities along the Amalfi coast. Speaking to its strong identity, the town center is small and known for the many intricate ceramic shops found there. This city is a wonderful place to appreciate local artistry and find plenty of cute shops for gifts, personal shopping, or keeping mementos to remember the uniqueness of Vietri. The city is in close proximity to Amalfi and Ravello – it's a great place to start your travels along the Coast!
HOW TO GET THERE & GET AROUND
For first time visitors, I recommend a private transfer, essentially a taxi you can book in advance (for a flat rate!), from Naples or Salerno for a chance to explore, get a feel for your surroundings and get acclimated. This will give you time to take a moment to plan your trip before starting your travels. If you like to live on the wild side, you might enjoy experiencing longer travel by bus. Remember, busses are not likely to be on time and don't have much space to store luggage. Locals typically take the busses to travel short distances, so the best way to explore all the small towns along the coast is by rental car or scooter, like a Vespa. Busses are not equipped for a large number of tourists that come in the hot summer months, so a rental will save you time – it's also easy to find parking space. When traveling between the cities, I prefer car rental. Keeping a car gets you between each city in less than an hour and gives you a great feel for the rolling Italian landscape, without staying in multiple hotels along the coast.
There's something for everyone along with the lovely towns of the Amalfi Coast. Which city would you go to first? Tell us in the comments!