The Best, Honest Guide to Capri Island
Capri is truly one of a kind, with no other place quite like it. You will be blown away and transported to another world upon setting foot on the island, surrounded by spectacular views of crystal blue waters and the beautiful Mediterranean forests. Many tourists stay in Capri, the more famous part of the Island, but Ancapri has so much to offer!
Here's an honest take on how to experience the most of Capri Island.
"Put a compass to paper and trace a circle. Then tell me which other country has such a concentration of places like Amalfi, Naples, Ischia, Procida, Sorrento, Positano, Pompeii, and Capri"
Diego della Valle
Capri
Capri is arguably the most well-known part of the island. It is more crowded and showcases a more lavish lifestyle than that of Ancapri. You can easily find famous fashion brands that have stores in Capri, as well as chic modern restaurants and nightlife. Visit the world famous disco clubs like the historic Taverna Anema e Core and Number Two! You might spot celebrities like famed actor Leonardi di Caprio or supermodel Alessandra Ambrosio while you're there.
Beach clubs are also quite well known and incredible to experience – but remember, almost none of Capri's beaches have sand. One of my favorites is La Canzone del Mare, meaning 'Song of the Sea'. It is huge and complete with a seaside pool terrace with beautiful views of the water and a restaurant where you can enjoy delicious Caprese cuisine. For a more intimate beach club, I love Luigi ai Faraglioni, which can be reached by boat from La Canzone del Mare. You can also venture to cultural gems at the amazing Roman Villas, like Villa Jovis, Villa Lysis, or the Augustus Gardens.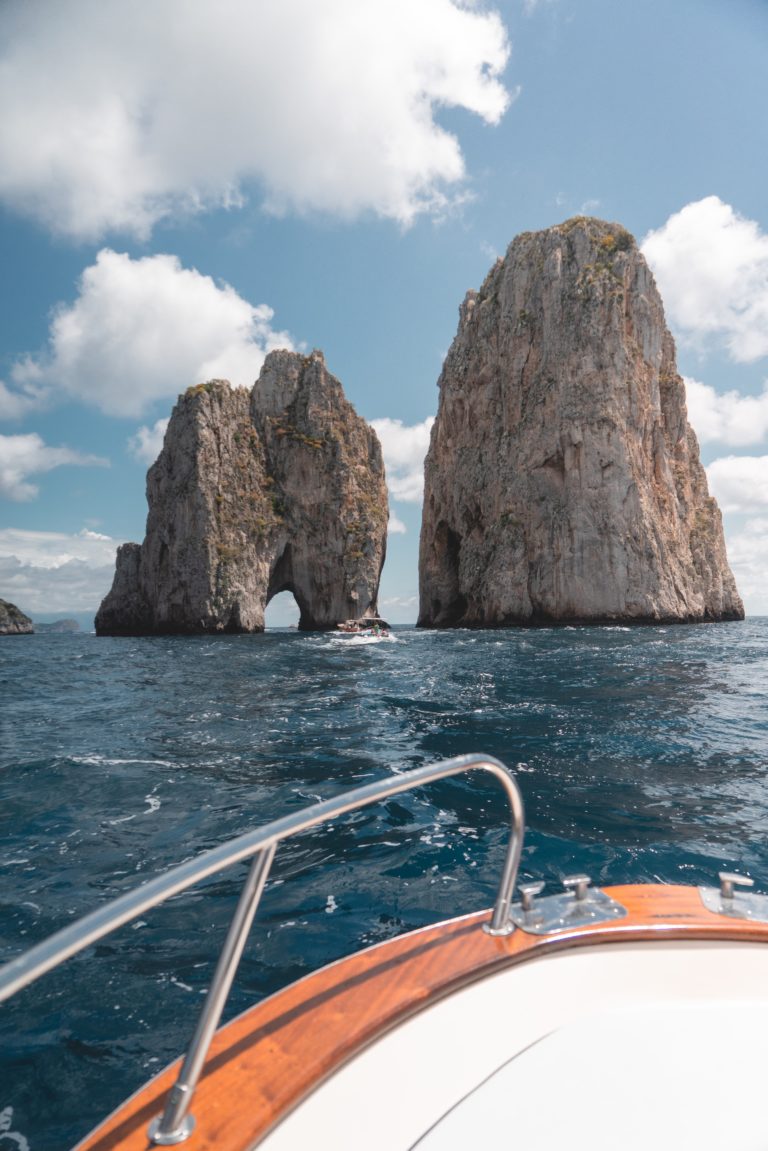 Anacapri
Beyond the glitz and glam of Capri is Ancapri, where the local islanders live. The town center is full of local shops with beautifully finished buildings and homes within the town. A trip to Ancapri is not complete without visiting Antonia Viva, a shop run by an eighty-year-old artisan shoemaker that will sell you the best sandals you'll ever own. He has been custom-making famous handmade Caprese Sandals since he was a teenager!
In this lovely town of Ancapri, much bigger than famed Capri, there is an array of things to do and see for every type of visitor. A favorite spot is Monte Solaro, a small mountain with a panoramic chair lift – the view is indescribable and definitely well worth the trip. For classical music lovers, you'll love Villa San Michele, a beautiful Roman Villa that holds classical concerts as the sun sets every Friday in summertime. Walk one of the many incredible trails for hikers, or enjoy the best beach clubs on the island. For a
more ritzy experience, enjoy Il Riccio Beach Club, one of the most exclusive clubs on Capri with a delicious menu at its Michelin Star restaurant. For a view of a nearby lighthouse, head to Lido del Faro, where you can enjoy food at their tasty restaurant and a dip in a sea salt pool. There is also La Gradola, a cute little beach club with a stunning view of the clear blue waters surrounding the island. After, you could enjoy the lovely restaurant there and visit the famous shimmering Blue Grotto nearby.
Experience the Island!
The best way to truly ​see​ Capri is from the sea! Take a private boat tour to get an even more beautiful view of the island on the water. A two-hour boat tour for six to eight people typically costs around 200€, but can be more pricey if you take a larger boat and rent it for a full day – but the experience is definitely worth it!
As Capri is an island, you can only get there by boat. The fastest option for travel is one of two separate hydrofoils companies that leave from Molo Beverello in Naples – the trip takes just under an hour. You could also take a ferry, which takes about an hour and a half, that leaves from Porto di Massa in Naples. Two ferries leave each day from Amalfi, and one ferry leaves each hour from Sorrento. For more luxurious travel, book a private sea taxi for up to eight people (costs approximately 300-400€ total).
There are plenty of ways to experience Capri Island – what are you most excited to see on your visit? We'd love to hear in the comments!